Remember this embroidered paisley kaleidoscope design I'm playing with?
Well, I'm Still playing with it! As usual, you all chimed in with some great suggestions, encouragement and advice on the last article. I love it when folks leave comments that we can all interact with – it's such a jolly way to share ideas and inspire others! So thanks for joining in!
Today, you'll see that I'm still plugging along with it. While the color scheme hasn't changed, I've tested the mild background filling that I had in mind. I've also pondered the design in general. There are a couple things about it that I'd change, if I were re-drawing it (which I will). So let's chat about it!
The yellow is a bit bright in this piece, but I'm not quite catching it right in the photos. It's not an acid yellow – it's more of a warm, sunny yellow, with the slightest tinge of red to it rather than green (it's DMC 743).
But that's the funny thing about color – the interaction with surrounding colors affects it.
I really, really wanted a burst of yellow brightness to this piece, but the jury is still out!
With the paisley elements to the design, I had a notion that the background should be barely colored, since the wider design area around them is not colored. So I used seed stitch to speckle the background with the yellow.
The jury is still out on that, too!
One of my problems is that I know I need to see the whole design complete before I'm certain about the seed stitching for the background, or the yellow on the sides.
When a design is made up of repeats, it's hard to get a good notion of the overall effect until you've worked all the repeats.
I toyed with the idea of making a kind of cut-and-paste mock-up in Photoshop to see how the repeats work out together, but then I decided I'd rather spend that time stitching than mucking about on the computer.
I know this: I don't dislike the piece enough to start over; and I enjoy the anticipation of seeing it grow.
The line stitch combinations I'm using are fun.
Stitching line stitches – like chain stitch, stem stitch, Palestrina stitch, Portuguese knotted stem stitch, backstitch (which I usually whip rather than leave plain) and the like – is a relaxing pursuit. There's just something about covering lines with repeated, ongoing stitches that meander along!
And I love the types of textures you can achieve with line stitches if you play with them a bit, adding extra colors, layers, and textures to them by whipping them, lacing them, or couching over them.
But the line stitches drew my attention to a design flaw.
I think the overall design isn't tight enough. It's too large, for one thing, and it sports a bit too much open space for my liking. I'll probably adjust the drawing slightly to see if I like it better tightened up a bit.
This is the image in gray scale, so that you can see how much (or little) contrast there is between the colors and shades. The values along the outline of the paisleys, especially the scallops and the chain stitch filling (the solid yellow) are very similar. While there's a slight bit of contrast in the blue outlines, it's probably not a heavy enough contrast to really make the design pop.
On the other hand… well, the jury is still out on a lot of things!
Today I'm going to stitch on this a bit, to see if I can get it to a point where I can evaluate how much I like the whole thing when it's worked in repeat.
And yes, I will eventually share the whole project with you – colors, stitches, all of it. The nice thing is, if you want to stitch it, you'll be able to make your own decisions on colors, threads, and stitch choice, so if anything on my version doesn't ring true for you, you can always make adjustments.
And that's one of the greatest things about embroidery, isn't it? There's a lot of personal choice involved, and there's no rule that says you have to interpret a design in any specific way! Very freeing!
So, what do you reckon so far? The main points I'm debating about in my head at this point are seed stitching, yellow filling, and the overall open space on the design.
If you want to join in on the conversation and put in your two cents' worth, ask questions, make suggestions, critique it… I'm all ears! Feel free to chime in below!
Favorite Kaleidoscopes Pattern Collection
If you'd like to stitch up your own version of Birthday Bash, you'll find the pattern available in my Favorite Kaleidoscopes collection – over 30 kaleidoscope designs for hand embroidery and other crafts.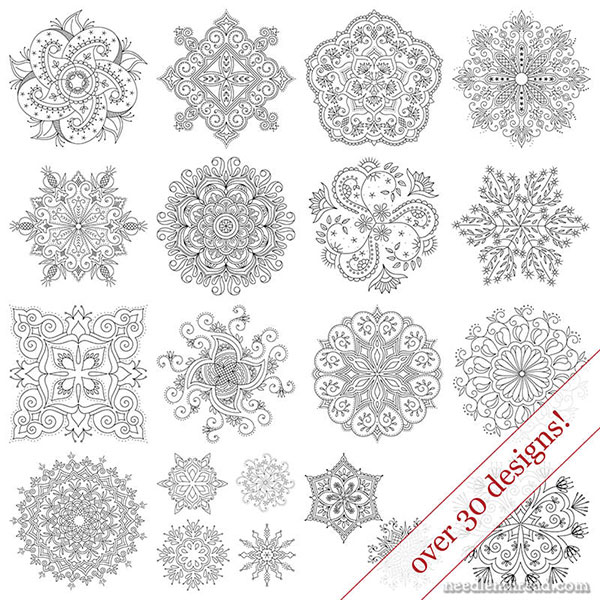 You'll also find the patterns for Party in Provence and Tulip Festival) in the same collection!
The kaleidoscope designs range from small 4″ designs to large 8″ designs, from simple to complex. You can read about the collection in detail here, or jump straight over to my shop to grab your own copy!