Should I use cotton or silk for silk shading?
Is cotton a better choice for silk shading?
Since lately I've received a few questions about whether or not silk shading (needle painting, long and short stitch shading, soft shading…) should be worked in silk or in cotton, I figure there must be more people out there with the same query.
So today I thought I'd address the question, following up on last week's article on my case for using silk in hand embroidery.
I think there's more to this than just an "either / or" answer. So let's chat about it!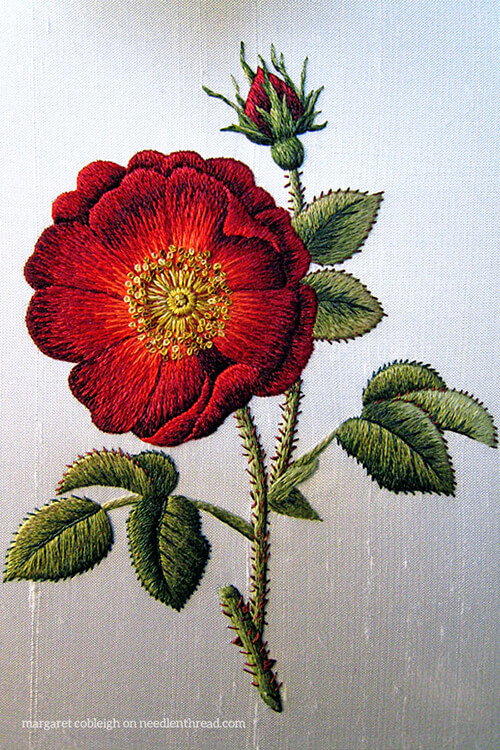 Whether or not you use cotton or silk for needlepainting could depend on a number of considerations. Here are a few that come to mind:
1. What level of stitching are we talking about? Are you a beginner? Have you ever done needle painting before?
2. What is your preference when it comes to fibers? Have you tried working with silk? Do you like working with cotton? Do you dislike working with either? After all, we're talking about your embroidery pursuits. Your needlework. Which is supposed to be a pleasurable undertaking for you!
3. What's your budget? Do you have a comfortable budget for your hobbies? Or a limited budget? (And there's nothing wrong with having either! I've written before about embroidery and budgets, to demonstrate why it makes sense to stick to a budget for the hobby tools and supplies you want to use.)
So you see, it's not really an either / or question. It's not a matter of saying "silk is better than cotton" or "cotton is better than silk."
That said, if you're suffering under the impression that only cotton should be used for silk shading, or that cotton is more suitable for silk shading, or cotton performs better than silk for silk shading – which seems to be the crux of the matter, according to the questions I've received – then I'd like to offer some further musings for your consideration.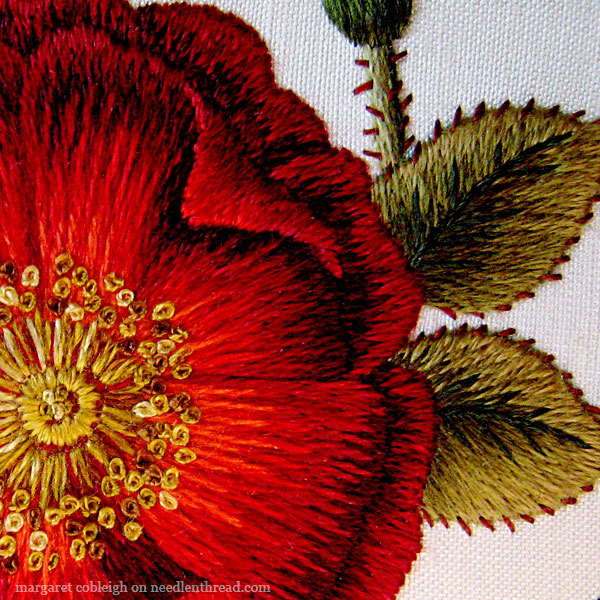 Taking things back a bit, silk shading is called silk shading for a reason. It's been done – and done well! – with silk for centuries.
I can't imagine that anyone has ever looked at a piece of exquisite silk shading in a museum and said, "Oh, well – it's nice enough, but too bad it wasn't done with cotton."
To insist that cotton performs better than silk for silk shading is a rather limited approach. Cotton certainly performs for silk shading, but does it perform better? Is silk somehow inferior for silk shading?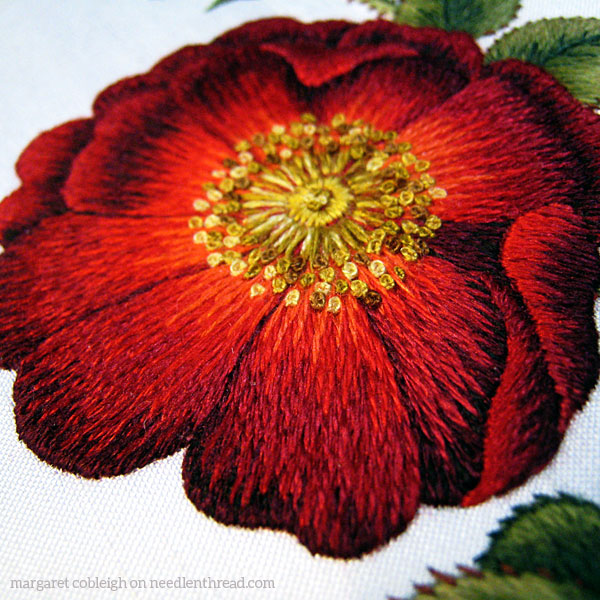 The fact is, silk shades beautifully.
The rose in the photos above demonstrate this pretty well, I think. This particular rose – it's the French Rose from Trish Burr's beautiful book, Colour Confidence in Embroidery which I reviewed here – was embroidered by Margaret Cobleigh, who blogs about her embroidery at Sharp Needler.
The rose is embroidered in stranded spun silk (Soie d'Alger) and the leaves are embroidered in cotton.
I'd be hard pressed to say that the silk used in the piece above didn't work, or didn't work well, or didn't work as well as cotton could have. The piece is stunning – over-the-top beautiful, a fact that has to do not only with Margaret's mastery of the technique, but also with the materials she used.
The Way Silk Blends
Silk, and especially spun stranded silk (like Soie d'Alger), performs really well when it comes to the way the threads blend together with long and short stitch. This type of silk has a slightly softer twist than cotton, which gives it a better "spread" when stitched.
And then there's the way the light plays off the silk. When shades of silk are blended with long and short stitch, they impart a real depth and a glow to the embroidery.
And I don't mean a garishly shiny glow. It's more of a soft, deep, warm glow.
Taking the softer twist and the play of light together, silk can even be significantly more forgiving when it comes to long and short stitch, too. So while a beginner might not spring for silk for shading on the very first venture, if you find you really love needlepainting, then don't hesitate to try it with silk!
Consider the Finished Look You Want
At the same time, though, you have to consider what look you're going for with the embroidery. There are times when cotton could be preferable. Think in terms of needlepainted animals, for example. Sometimes, cotton achieves a separation and distinction in fur and feathers in a way that might not work as well with silk.
When it comes to teeny tiny details, cotton may work better for you, too, although keep in mind that silk embroidery threads are available in a wider variety of weights (thickness) compared to cotton, so you can usually find suitable silk threads – and a wider variety of them – for the tiny details, too.
The Upshot
What it boils down to is this:
If you have a hankering to try shading with silk, don't be held back by the notion that cotton is better for silk shading and that silk is somehow inferior to cotton for silk shading. Try it with silk and see for yourself!
More Reading
If you're looking for more reading on shading done with silk, here are a few projects that use silk for shading:
Goldwork and Silk Tudor-Style Rose (filament silk)
Marian Medallion in silk and gold (filament and spun silk)
Mission Rose (filament silk)
Goldwork and Silk Stylized Pomegranate (spun silk)
Agnus Dei project (spun silk)
Golden Pomegranate (spun silk)
And you can learn more about the different types of silk for hand embroidery through the following articles:
Silk 101: Getting Started with Silk Embroidery Threads
Silk 101: Twisted Filament Silk
Silk 101: Flat Silk
What About You?
Have you used silk for shading? What's your take? Any tips or encouragement for stitchers who want to try silk for shading, but are hesitant? If you'd like to chat about the topic of silk and cotton for shading, feel free to chime in below!