The essential tools for hand embroidery are pretty simple: needle, scissors, and a hoop or frame pretty much cover it.
When considering those essential tools, though, no doubt we all have our favorites. We like a certain type of hoop or frame; we have our favorite pair of scissors; and there are certain brands of needles that we gravitate towards, because we know they're reliable.
Chances are, along our different needlework journeys, we've also acquired other tools that we've become attached to – tools that go beyond the basics, but that make our stitching lives a bit easier or perhaps just more pleasurable.
So that we can collectively help each other – and especially help stitchers new the art and craft of embroidery – I'd like to find out what your favorite tools are and why. I'll recap some of mine below, and then ask you to tell us about yours.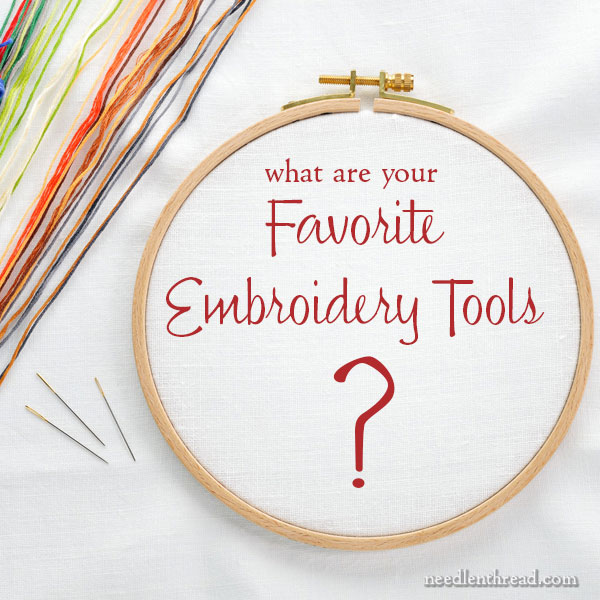 Here's my list of hand embroidery tools that I use often. Most of them, I'd be lost without!
Embroidery Hoops
When it comes to hoops, I use 4″ Hardwicke Manor Hoops practically every day. Admittedly, I have a glut of them – six or so that have the inner ring of the hoop bound with twill tape, and that are always ready to take on a small project or perhaps a doodle cloth.
These are by far my favorite hoops. They're smooth, well-fitting wooden hoops with very strong, sturdy hardware. They're not "disposable" hoops in the least – if you take care of them, they'll last forever. I've been using the same hoops for years and years and years.
Embroidery Frames
When I got to the point in my embroidery pursuits where I needed a frame instead of a hoop, I went through all kinds of options for frames and tried just about everything out there.
I've settled into Comfortable Reliability with three types of frames: Evertite stretcher bars, slate frames, and Millenium frames.
I use these types of embroidery frames interchangeably, depending on the type of project, how long the project will last, where I'm going to work the project, and sometimes just depending on what's close at hand and most convenient.
Needles
Bohin needles are still my favorites! I've talked about them before. As the years have passed, this hasn't changed.
Embroidery Scissors
Scissors! Oh, scissors! It's really hard not to become obsessively attached to a good pair of scissors!
I have two favorite types of scissors for hand embroidery: these Premax ring lock scissors that I reviewed a while ago, and a pair of Dovo scissors. Both are excellent scissors.
Dovo scissors are uniformly excellent, no matter what pair you select. With the Premax scissors, I've had a lemon or two along the way – scissors that squeak, hesitate, or that loosen up. But the Premax ring lock scissors are superb, and I use them daily.
For goldwork and metal threads, I use inexpensive, plastic handled tiny scissors that last pretty well, but that I can easily replace when the blades are finally too ruined to cut well.
Lighting & Magnification for Hand Embroidery
I absolutely love my stitching lights. I use these BlueMax lights that I reviewed a few years ago. Truly, I'd be lost without them!
Good lighting makes all the difference in stitching well and comfortably, and it's crucial for avoiding eye strain, especially as you get older.
For magnification when I need it, I use this Dublin Craft Light & Magnifier that I reviewed many years ago. It's held up well!
A Pincushion
When I stitch, I have to have a pincushion close by. I'm always switching out needles, and it drives me nuts if I don't have a place to stick them.
After I dissected my last pincushion, I started using the base that came with this Lorna Bateman pin cushion kit…which I haven't actually decorated yet. I've just been using the naked pincushion. It's a wonderful pincushion!
Laying Tool
With certain types of stitching and certain types of thread – like flat silks, rayons, or just cranky threads – a laying tool is indispensable.
My favorite laying tool is the BLT, encased like these from JR Crafter. It's super-smooth, nicely weighted, and works great. It does have a very sharp tip, but I like that, because I use it as a stiletto, too, to open up larger holes in fabric when I need to.
Tweezers
My tweezers and I are good friends. When it comes to picking out threads, you won't find a better assistant!
Any tweezers will do, as long as the tweezing ends fit together nice and pinchilly. You can find mini tweezers in handy cases at needlework shops. I just have a regular pair from pharmacy.
Interestingly enough, the word "tweezer" comes, ultimately, from the French word etui, which is a small box used for carrying or holding things. In the needlework world, an etui is a small needlework tool box.
And even more interestingly, if you say tweezer ten times in a row, you'll realize what a weird word it is.
Storage / Organizational Options
I'm not going to go into all kinds of storage and organizational options, because I suppose they aren't really "tools," but I do use some things in this category every day.
For example, I have a few small trays on my work table – basic, plastic trays – that come in very handy for keeping my work area in some semblance of order. I can put all the supplies for a given project in one tray and keep them straight and organized that way.
I also have a few small decorative gift boxes and the like that I've repurposed to hold tools and supplies that I use frequently.
I like mesh zippered project bags for packing up individual projects.
And I use little ziplock bags quite often, for stray skeins of thread that don't have tags on them anymore, or for loose beads or buttons or whatnot.
Quilter's Ruler
I keep a small quilter's ruler at hand – the clear kind, marked off in 1/8″ increments. Comes in handy for a lot of things – like measuring.
Notepad & Pencil
Definitely worth keeping a notepad and pencil in your workbox or near your work area. I jot down thread types and colors that I use in projects, or I jot down little notes about projects that I don't want to forget. I'm always jotting.
A Fingernail File
For obvious reasons.
Hand Wipes
I keep hand wipes available at my work table and I use small travel packs in my project bag when I'm traveling.
They're a fundamental part of the transition from chocolate to stitching.
Your Turn!
Ok, what are your favorite needlework tools – the ones you use every day, or at least quite frequently, that you'd be lost without? What's that one particular tool that makes you exclaim, "How did I ever live without you?"
I'd love to hear about your favorite needlework tools – and by joining the conversation, it's a great way to let other embroiderers know about tools that might help them, too. Feel free to chime in below!