Hello, Stitching World!
Today, let's chat about beginner embroidery supplies.
I answer questions about beginner embroidery supplies very frequently. I thought this might be a way to compile some simple answers in one place and to open the topic up to other stitchers who can contribute some good advice.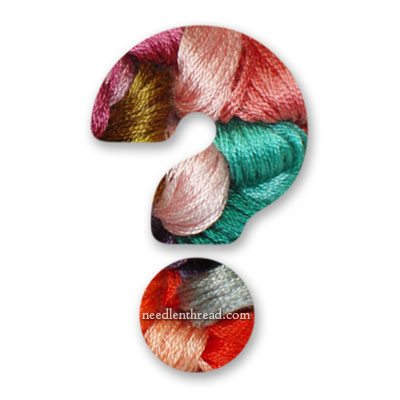 There I was, in the Massive Metropolis of Topeka, Kansas. I was finished shopping, but I was waiting for my sister (who takes a lot longer to shop than I do…).
Weary of the prospects around me, and always concerned with what's going on with Needle 'n Thread, I checked my website email. And lo! There was a plea for help!
This plea, as a matter of fact:
Mary, I've been reading your website for awhile but I haven't started stitching yet. I want to stitch, but I'm just not sure what to buy. We have craft stores around but no embroidery stores. When I go into a craft store, I'm always confused by the selection. What hoop should I buy? What thread? What needles? I want to save money, but I don't want to waste money on junk. And some of the supplies look like junk to me. Help!
It just so happened that, right across the street, a craft store loomed.
Abandoning my slower companion with absolutely no qualms, I traversed the busy thoroughfare, putting myself in the shoes of a beginner who would approach the needlework section in any of the major craft stores in the US (Hobby Lobby, Michael's, JoAnn's, Hancock fabrics, and so forth).
What would I see? What would attract my attention if I were looking for supplies to try out embroidery for the first time? What would stump me?
And, musing over the difficulty of the absolute beginner, I betook myself to the needlework aisle and started browsing, camera ready.
This is a yes – I would buy these. Embroidery needles (also known as crewel needles) are pretty much essential, and for the beginner, a combo pack of sizes 3-9 or 5-10 is a good choice.
While these particular needles are not my favorites, they are pretty much widely available in most sewing and craft stores. You can't really go wrong with them when starting out.
Why "embroidery needles" or crewel needles? They have a sharp tip that pierces the fabric and a longer eye that accommodates embroidery thread. If you're contemplating trying surface embroidery (as opposed to cross stitch), then you want a needle that will pierce the fabric. These are the needles you want.
This is a yes and a no.
You want a hoop. It is easier to learn most surface embroidery stitches with a hoop, and while there are some stitches that can be worked just fine "in hand" (holding the fabric without a hoop), the majority of stitches work better when your ground fabric is drum tight in a hoop and your embroidery, in general, will look better if you use a hoop.
But which hoop? The top hoop in the photo above is a no.
Don't waste your money on these wooden craft hoops, unless you are just planning on crafting. If your goal is to embroider something fun and simple and frame it in the same wooden hoop and display it like that, then fine. These are the wooden hoops people use for that.
If you're not doing that crafty-hoop-framing thing, then opt for the hoop barely peaking out at the base of the picture. These plastic Susan Bates hoops with the "lip" hold the fabric better than the wooden craft hoops shown above.
There are several problems with the wooden craft hoops, for beginners who really want to get into stitching.
The wood is generally very rough and unfinished – it can snag your fabric and it can give you splinters. Personal experience here on the latter!
The hardware is flimsy. Tightening that screw really well without the hardware bending beyond use is pretty much out of the question.
The hoops themselves are generally not well matched, resulting in an uneven hold on your fabric, tighter in some places, looser in others.
With the plastic hoops, opt for a smaller size. I usually go no larger than 6″ when I'm teaching beginners and using these hoops.
A good way to measure the maximum size of hoop you should buy for hand embroidery is to hold the hoop in your less dominant hand and see if your fingers on the same hand can stretch easily to the center of the space inside the hoop while you're holding it.
Some stitchers, however, prefer that their hoops fit around the outside of the whole design that they're embroidering, so that they don't have to move the hoop around. This is something you should decide for yourself – but I think, for starting out, a 6″ hoop is just fine.
Keep in mind, too, that the larger the hoop you buy – especially of lower quality hoops – the more wobbly the hoop will be.
This is a Big Fat Furry No in my book.
It looks like a really good deal, doesn't it? All that floss – 105 skeins of it – for around $10. But "craft floss" is not a good deal, pretty much ever – not for embroidery, anyway!
When it comes to floss, opt for well-known, tried-and-true brands like DMC and Anchor. They are long-staple, mercerized Egyptian cotton threads that are smooth, sturdy, colorfast (though it never hurts to check), easy to work with, and they have a good sheen. And you can always purchase floss later by color number and be guaranteed an accurate match.
Craft floss is not always long staple cotton, it's not necessarily colorfast, it tends to knot and pill, and it is generally frustrating to stitch with. You can't always be ensured of a good color match should you run out of one color, and to replace a color, you have to buy a whole "bargain pack."
When it comes to craft floss, skip it. Invest in a small range of colors that you like in individual skeins of DMC, and work with those. As you gain skill, you might try other threads, you might expand your color selections and so forth. But to start out, you can be economical by choosing a small range of colors of good thread and practicing with those.
What Else do you Need to Start Embroidering?
You need fabric! You can embroider on anything, though. An old (still good) pillow case, flour sack towels, muslin by the yard. Surface embroidery is more suited to fabric that does not have a lot of space between the threads that make up the fabric (though loosely woven fabrics can be used, too – just avoid very heavy or dense stitching).
You need scissors! If you're just starting out and are not yet ready to invest in a really good pair of scissors (they will be your life-long friends!), choose a pair of small, sharp, well made scissors that open and close easily, that your fingers fit into, and that have blades that meet.
You need good light! Sit outside on a sunny day, sit near a sunny window, sit under a good light. If you don't have a good light, eventually, you'll need one if you decide to pursue hand embroidery.
More Information on Embroidery Supplies
You'll find loads of information here on Needle 'n Thread about hoops, needles, and embroidery thread. Here's some reading, if you want to do a little more research:
Embroidery Hoops
Embroidery Hoops & Frames
The Embroidery Hoop (what makes a good hoop)
Binding an Embroidery Hoop
Binding Both Rings on an Embroidery Hoop
Using Two Hoops at Once
Embroidery Hoop Talk
Embroidery Needles
5 Things You Need to Know about Hand Embroidery Needles
Embroidery Needles
Taking Care of Embroidery Needles
Making an Easy Needle Roll
Bohin Needles
Embroidery Fabrics
There are many articles on Needle 'n Thread about ground fabrics for hand embroidery. My favorite fabric is linen.
Scissors
Small & Sharp: Scissors for Hand Embroidery
Folding Scissors
The Woe & Disappointment of Bad Scissors
Curved Scissors for Embroidery
Goldwork Embroidery Scissors
Embroidery Scissors by Premax
Your Beginner Embroidery Advise
What would you advise the beginner to look for (or to avoid) when shopping for embroidery supplies for the first time? Have you ever made a mistake and invested in The Wrong Stuff? Have you discovered a good tool that's readily available that might be handy? Do you agree or disagree with any of the points made above? Feel free to join in the conversation below!