I've been working on an embroidery project called Late Harvest for the last year, and the articles relating to my progress on the project – and any mistakes, corrections, tips and techniques that I've written about – are scattered all over Needle 'n Thread.
So, to do a little housekeeping and keep things organized so that you can find them more easily, here's the Project Index for Late Harvest! This is where I'll list, in chronological order, all the articles relating to this project as I work through it.
You'll find the project index listed under Tips and Techniques in the main menu here on Needle 'n Thread, under the first section on Embroidery Lessons & Step by Step Projects.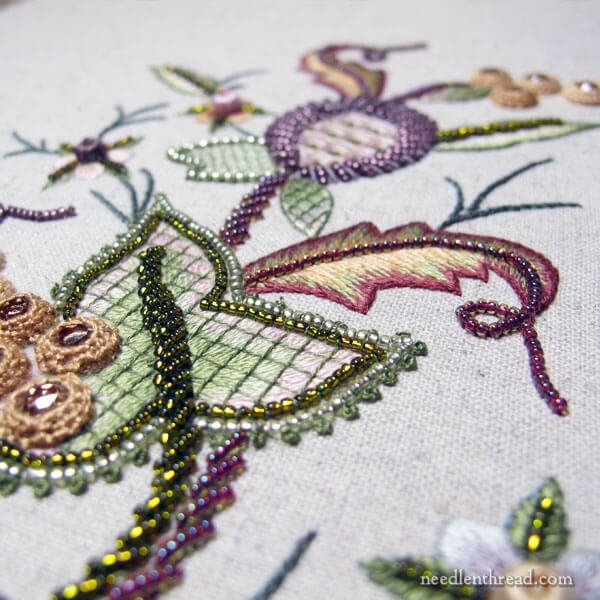 Late Harvest is an embroidery project designed by Hazel Blomkamp and featured in her book, Crewel Intentions.
While you can always source the materials yourself and work the project straight from the book, I'm working from the Late Harvest kit that Hazel offers on her website.
Here's the list of articles on Late Harvest so far, arranged chronologically. As I make progress on the project and share it with you, I'll add the new articles to the end of this list, to keep the whole project together.
Late Harvest Embroidery Project Articles
Crewel Intentions Book Review – this is the book where you'll find the instructions for Late Harvest. The kit does not come with instructions – you'll need the book if you want to work the project.
Late Harvest Kit Review – this is my review of the kit, where you can see everything that comes with it, up close and personal, and my thoughts on the quality and value of the kit.
Setting Up Late Harvest – includes the type of frame I'm using and tips on setting up the project on the embroidery frame.
Sneaking Stitches – the first stitches on Late Harvest on the central pomegranate.
Padded Buttonhole Stitch – working around the pomegranate
The Pondering Project – adding leaves and bead outlines around the central motif, and a discussion on thinking while stitching.
On Embroidery Kits & Following Instructions – working on long & short stitch leaves and making changes in the order of work and direction of work.
Leaf Progress – with tips on long and short stitch.
Inside-Out Long and Short Stitch – working long and short stitch in a different direction and comparing leaves.
Needlework Snafu – more tips on following instructions, and what can happen when you don't. A small beaded stumpwork leaf.
A Stumpwork Leaf and some tips – working through the stumpwork elements
Stitching Tip: Evenly Spaced Lattice Fillings – working the large lavish leaf and how to space the lattice lines on top of the long and short stitch filling.
Big Beads, Little Stitches – covering large beads for stumpwork flower centers.
The Lavish Lattice Leaf – an update on the largest leaf on the project, worked in long and short stitch covered with lattice lines and outlined with beads and French knots.
Embroidering On the Flat Back Crystals – tips on embroidering flat-back crystals, using detached buttonhole stitch.
Battlement Couching, Beads and Progress – adding another element to the design, comprised of a battlement couching center, with beads and bullions for the rest of the flower.
Finished Right Half – the right half of the project is finished; some discussion on optimism and pessimism in stitching.
Lattice on a Stumpwork Leaf – working some more stumpwork elements, specifically some leaves in long and short stitch covered with lattice work.
Making Adjustments on Stumpwork Elements – discovering that the stumpwork elements were supposed to be transferred at a larger size, and demonstrating how I resized them.
Finished Stumpwork & Some Tips – all the stumpwork elements are finished, and some tips for cutting.
Bead Embroidery on a Funky Mushroom – this article focuses on what looks like a funky mushroom but is more likely an echinacea blossom, rendered in beads.
Speeding Up Large Leaves in Long & Short Stitch – time to move along more quickly on Late Harvest! How I sped up the larger long & short stitch leaves.
Late Harvest Update & A Personal Note – the last update before putting away Late Harvest until autumn.