Even if you're new to embroidery, you probably already realize that there's more to the Wonderful World of Embroidery Thread than regular stranded cotton.
But perhaps the whole gamut of all the thread available out there – the "embarrassment of riches" that we enjoy in the needlework world today – is a bit overwhelming to you.
Perhaps you know there's other thread you could try, but, being unsure of what's what, you feel it's better to stick with what you know rather than to venture into the unknown.
Often, our inhibitions to try something new are due to a lack of confidence, which stems from a lack of understanding or knowledge.
So occasionally, I like to delve into a bit of thread talk, exploring different types of threads for hand embroidery. For beginners and non-beginners alike, understanding what threads are what may encourage you to try new-to-you threads with a little more confidence!
Today, we're going to talk about cotton threads that are specifically made for hand embroidery.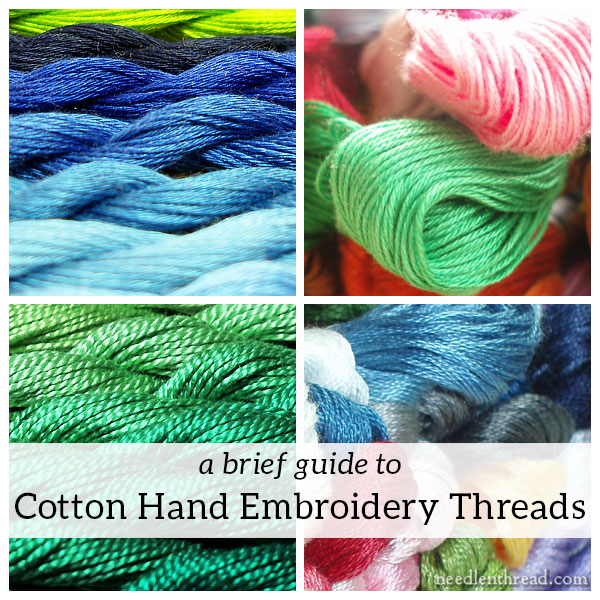 Throughout the article, I'll provide links to other articles on Needle 'n Thread that will give you more information on the thread. If you want to really understand the thread, how it's used, what it can be used for, and what it looks like in relation to other threads, feel free to explore the links for more information!
Cotton embroidery floss (or "stranded cotton") is one of the most commonly used fibers in hand embroidery. Not only is it is widely available, but it comes in a massive range of colors and is affordable.
Besides cotton floss, though, there are different types of threads made for hand embroidery. While they're all made from the same fiber, they vary by weight (thickness) and twist.
Let's start with the most familiar and then move on to less familiar cotton threads.
Stranded Cotton
Stranded cotton (referred to as embroidery floss here in the States) is the six-stranded cotton that most of use are very familiar with. It is a divisible thread, meaning that it can be divided into six single, fine strands, a process which is called "stripping" the floss. You can see how to separate or strip your floss here.
Here is a visual guide that demonstrates the difference in line thickness based on the numbers of strands used in a stem stitch line: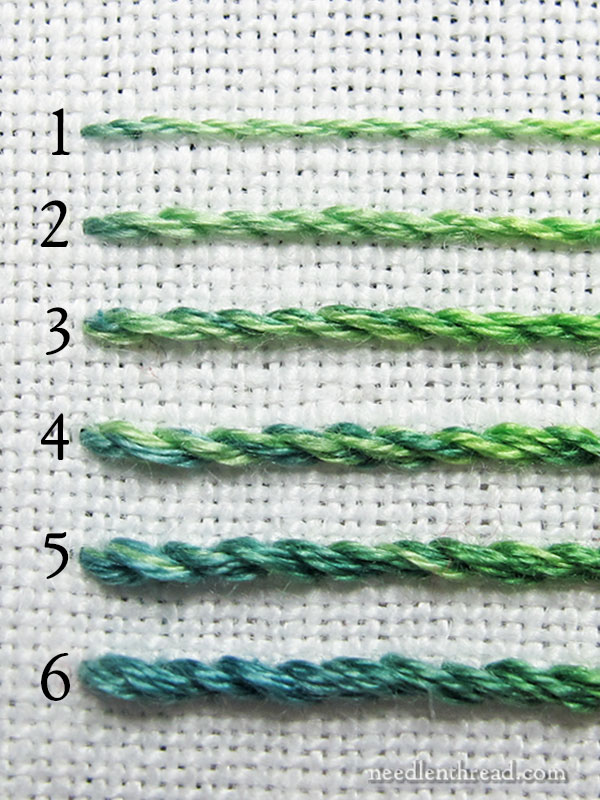 So you can see that, depending on the coverage you want or the thickness you desire for your stitches, you can use a single strand, two strands, three, or more in the needle at one time.
Common, trusted brands include DMC and Anchor, but there are other brands out there, too! Cosmo, for example, is a stranded cotton from Japan.
Many thread companies produce their own specialty dyed versions of stranded cotton, too. House of Embroidery, Weeks Dye Works, and Valdani are some examples of such companies. And then, there are many individual dyers out there who work with stranded cotton, too – like Lorraine at Colour Complements.
Perle Cotton
Perle (or Pearl) Cotton is a non-divisible embroidery or needlework thread, with a tight twist that creates a kind of "bumpy" look to the thread. Because it is non-divisible, it is used straight off the skein or ball as a single thread.
Trusted common brands include DMC and Anchor, but, like stranded, it is also available through other companies that dye their own special versions.
Perle cotton comes in different weights, from heavy to fine: #3, #5, #8, and #12. Here's a visual guide to what they look like in relation to each other: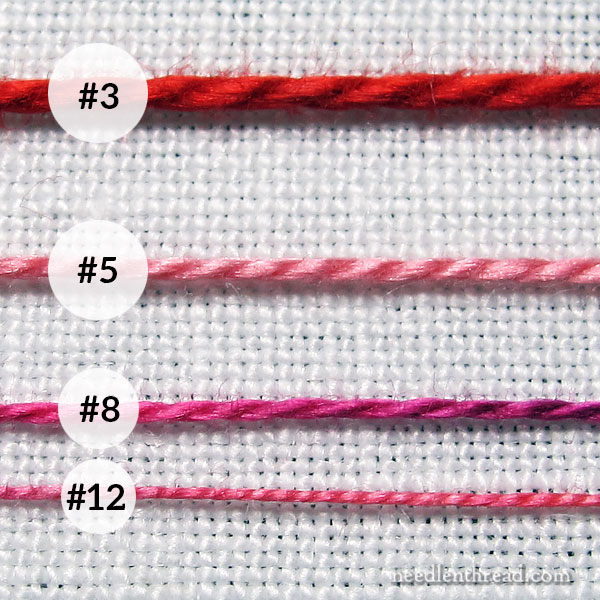 Perle cotton can be used for surface embroidery, especially when desiring a bit of texture in your stitching. It's great for seam treatments in crazy quilting, and #5 is often favored for canvas work.
I like to use #3, #5 and #8 perle cotton when teaching children to embroider, because the thread is easy for them to handle and they don't have to worry about separating it.
Floche
Floche is a softly twisted, fine, non-divisible embroidery thread. It is put up in a large hank, rather than a small skein. The photo below shows the difference in size between a hank of floche and a skein of regular stranded cotton: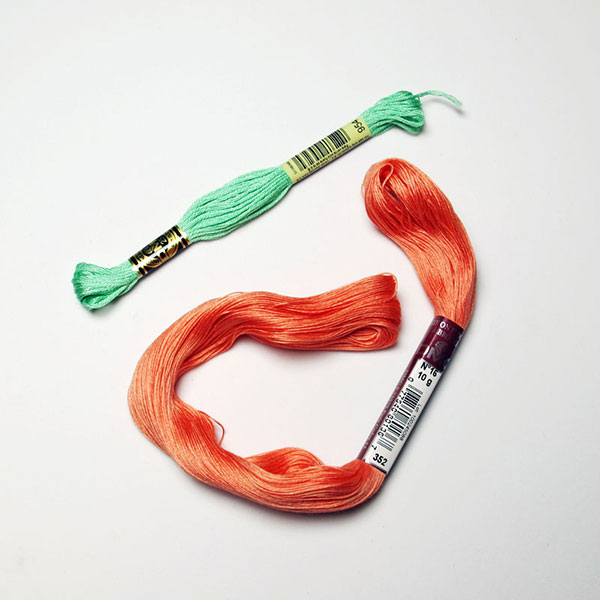 Floche is favored for embroidery on heirloom sewing, in smocking, for monogramming, and for general surface embroidery. To see examples of floche, stitched, I used it for this monogram and for this voided floral monogram.
I also used it for many of the letters in Stitch Sampler Alphabet, because…well, you just can't beat that soft sheen:
I love floche, and I've written about it extensively here on Needle 'n Thread! The following articles will help you learn more about it:
Cotton Floche – What's Not to Love?
Cotton Floche vs Coton a Broder Up Close
Long & Short Stitch with Floche
Coton a Broder
Coton a broder is sometimes called "cutwork thread" or "whitework thread" or, in some cases, "soft cotton." It's a beautiful soft thread with a nice sheen, though not quite as soft as floche. It's got a tighter twist to it, compared to floche.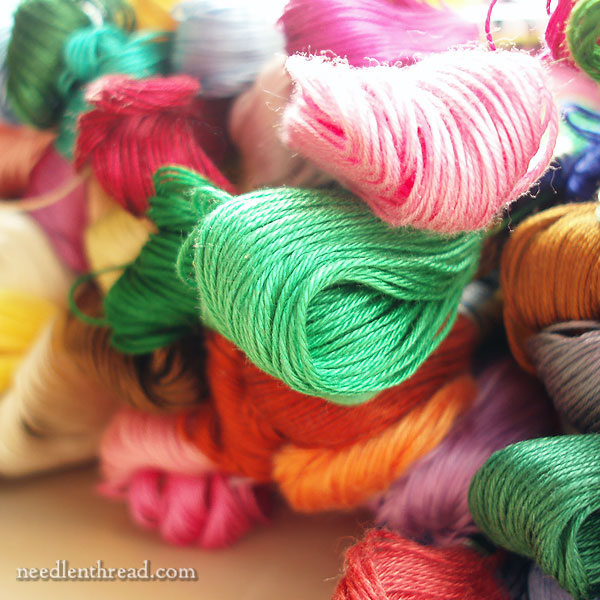 In white and ecru (suitable for cutwork, monogramming, Schwalm, and other whitework), coton a broder comes in various weights. The common range available is (from heavy to fine) size 16, 20, 25, and 30. If you're lucky, you might find 35, 40, and even 50 available from older stock, or from more obscure suppliers in Europe, but those sizes are hard to come by these days!
Coton a broder size 25 (DMC Broder Special, Art 107) is available in a about 182 colors, and it is perfectly suitable to all kinds of surface embroidery, smocking, monogramming, and other heirloom stitchery stuff.
You can read more about coton a broder in the articles below:
Coton a Broder Questions, Floche, and Danish Flower Thread
Choosing Colors with Coton a Broder 25
Less Common Cotton Threads for Hand Embroidery
Two threads that are less-commonly known, but made specifically for hand embroidery techniques are Danish flower thread and Mountmellick embroidery thread.
Danish flower thread is a relatively soft cotton with a tighter twist than floche, that has a matte finish. It's equivalent in weight to about two strands of DMC cotton floss, and it is available in an array of colors.
The Difference between Floche and Danish Flower Thread
Mountmellick embroidery thread is a white cotton embroidery thread with a matte finish. It's available in four sizes: very fine, fine, medium, and heavy. It's a firmly twisted thread. The matte finish is meant to contrast with the cotton sateen normally used as the ground fabric for Mountmellick embroidery.
Where to Find These Threads
If you're ready to take the plunge and try a different cotton thread, you might need some resources for where to find the threads mentioned above!
Both stranded cotton and perle cotton are pretty much widely available. If you have a local needlework shop that caters to cross stitch and needlepoint, you will probably find an array of both types of cotton available there. Since most of us don't live within driving distance of a local shop, both types of cotton are also available at chain craft and sewing stores. However, if you do have a local needlework shop (LNS) that carries these threads, consider supporting the locally owned shop first!
The more "obscure" cotton threads above are not usually available at local needlework shops, let alone craft or sewing stores, so they normally have to be found online.
In the US, Lacis carries floche, coton a broder in various weights as well as #25 in the whole color range, and Mountmellick embroidery thread. They're not the easiest website to order from, but they sure are fun for a browse!
Vaune.com carries floche and coton a broder #25 (colors).
You can find Mountmellick thread in Canada through Tanja Berlin and in Australia through Yvette Stanton.
Danish Flower Thread is available in the UK from the Danish Handcraft Guild and in Australia from All Threads. In the US, it's available through Ingebretsen's in Minnesota. I'm curious about the flower thread form Ginny Thompson. I've not tried it, but if you have, I'd love to hear feedback!
Give it a Try!
I hope that this run-down helps you become familiar with the cotton threads available today for hand embroidery and that, if they trigger your stitchy enthusiasm, you give them a try!
Tags