Free patterns for hand embroidery! Here you'll find a variety of motifs to embroider anywhere. They would look great on household linens (guest towels, table runners, table cloths, & cutwork pieces come to mind) or even as accents on clothing.
You can find my complete index of hand embroidery patterns (with thumbnails) available on Needle 'n Thread here.
These hand embroidery patterns come from a variety of sources – some from old embroidery pattern catalogs that I own, that are well out of copyright, some designs below I drew myself, inspired by objects that were never meant for hand embroidery.
I hope you enjoy the designs. If you use them in your own projects and are interested in sharing the results, feel free to contact me! I'd love to see what you do with them!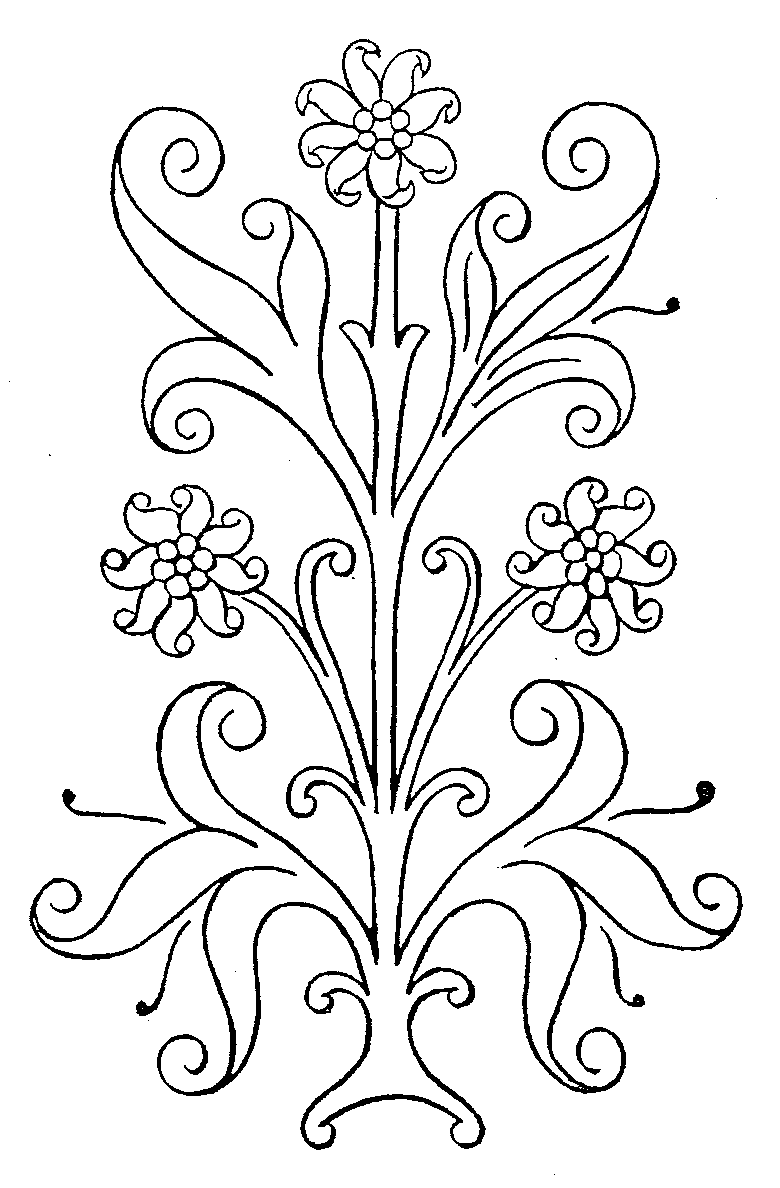 Here's a stylized flower stalk. It would look great in any kind of thread, but especially in silks, with a combination of stitches for texture. You could also "needle paint" it for a nice, smooth effect. Goldwork is another option, for something very fancy. You could work this in white, on white linen, for a nice guest towel. Vary your stitches for texture, and you'd have a beautiful design in white. Seed stitch inside different line stitches can create a nice effect. Click on the image for a larger version.
Here's a list of more designs for hand embroidery that you'll find on this site:
Passion Flower Design – great for corners!
Fleur de Lys border – lots of options on this one, and easy to stitch, using basic line stitches.
Single Lily – perfect for household linens, guest towels, and whatnot.
Border for Redwork or other techniques – a simple border that would work up quickly.
Pretty Daisies – great for practicing line stitches around curves.
Butterflies! – A couple nice butterflies for any kind of hand embroidery technique.
Acorn Border – a simple border suitable for anything fallish!
Flower Border – published under the "Linea" post, this pattern is suitable for any embellishment.
Grape Vine – Exceptionally pretty design for borders on household items.
A Scrolly Border – another versatile border design
Jacobean pattern – an exercise in crewel work, for more advanced embroiderers
The Acorn, revisited – another acorn pattern for seasonal embroidery
Simple Rose Design – a corner design of simple roses
Jacobean pattern with Butterfly
Daisies! – great embellishments for just about anything.
Single Flower – another multi-purpose design, suitable for beginners and beyond; includes stitching suggestions.
A Bunch of Little Flowers – all kinds of uses for this design. A repeat is also shown.
Goldwork Sampler – a magnificent pattern to use as a 'sampler' for learning different techniques of goldwork.
Silk Shading Sampler – a beautiful pattern suitable for practice in silk shading and gold couching.
Sunflower Cross – a nice pattern for basic embroidery stitches – can be used for church embroidery or secular.
Flower Medallion – another pattern that can be used for basic embroidery on household goods, etc.
Decorative Border – this pattern would look great on the edge of household linens.
Simple Lily – this pattern is very simple, and would be great for quick embellishments or even for applique techniques.
Bookmark or ? – a diamond column with a four-petal flower motif within, great for a hand embroidered bookmark or even household linens.
A Circular Thing – I'm not sure what else to call this. It's a nice circle pattern, especially suited to line stitches.
Monogram – the Letter A – a very pretty "A" that can be used to personalize gifts and household items.
Circles – a pattern for stitching on the drawstring bags the kids made in our summer embroidery classes, 2007.
Dancing Daisies Garden – another pattern for stitching on the drawstring bags, Summer, 2007.
Simple Daisy Wreath Pattern – this is another pattern used on the kids' drawstring bags this summer, 2007. The middle of the wreath is perfect for a fancy initial!
A Simple Jacobean Motif – with suggestions for stitching.
Embroidered Bag Sampler Pattern – a simple pattern for the outside of a drawstring embroidered bag. Uses a variety of stitches!
Jacobean Flower and Leaf – this is a typical Jacobean looking flower and leaf pattern, very nice for a single motif or worked into a larger piece.
Single Stylized Leaf – here's a simple single stylized leaf pattern which would combine well with other Jacobean motifs or work on its own.
Hanging Flower Pattern – good for goldwork or any kind of surface embroidery, this is a unique little flower and very pretty.
Jacobean Leaves – three leaves together that would make another interesting addition to a whole Jacobean sampler, or can be worked individually. This one is also adaptable to goldwork.
Fuschia Embroidery Pattern – here's a pattern for a single fuschia, very pretty and simple in design.
Simple Single Flower – another pattern that would work well as Jacobean or crewel embroidery, but is adaptable to any surface technique.
Pretty Stylized Scroll & Flower design – this is a beautiful design suitable for silkwork or other shading techniques. It can be adapted to other forms of surface embroidery. It's one of my favorites!
Tulips ala William Morris – Here's a nice tulip pattern after William Morris. It would make a great pattern for any surface technique.
William Morris Flower Thingy – another motif after William Morris.
Slender Flowers – a tall and slender bunch of three flowers, with very pretty leaves and stems. It would make a great study in whitework, but could be used for almost any surface technique.
Fortune Cookies – Rather a strange little motif, but there it is, nonetheless.
Repeating Scroll Design from Therese Dillmont – perfect for shading and filling techniques. A pretty design!
Corner Motif – A pretty and simple diamond (or square) shaped corner motif perfect for hand towels, bread cloths, or even for goldwork couching practice!
A Leafy Border – another simple line design suitable for all kinds of applications – from household goods to the hem of a skirt.
Scrolly Design – works great for line stitches; pretty on household linens and so forth.
Scrolly Medallion – somewhat diamond shaped (though not perfectly symmetrical) and very ornate; another good pattern for simple line stitches.
Medallion Frame – a simple interwoven, double-lined frame that would look great enclosing a monogram.
L-O-V-E in a Box – a four-box design, with L-O-V-E written in flowered monograms.
Scalloped Heart – very simple and sweet.
Leafy Medallion – I think this one would work well for goldwork.
Blackwork Trees – Well, you can divide up the motif, actually, and use it as trees, or line them up and use them as a decorative edge! Up to you!
Stylized Pomegranate – Pretty design, perfect for needlepainting or goldwork, and would work well for ecclesiastical embroidery, too.
Carnations – a pretty carnation bunch, perfect for needlepainting. There's a colored version along with it, so you can get an idea of shading!
Leaf and Flower Corner – a perfect design for the corner of a handkerchief, or cloth napkins, or a larger tea towel, or – even larger – a tablecloth.
Diamonds and Fleur de Lys – a diamond motif for simple embroidery.
Needlelace Pattern – an egg-shaped pattern for needlelace, with resources for learning techniques.
Cutwork Pattern – flower motif with scroll designs for cutwork. This pretty design can also be used for other embroidery techniques.
Another Scrolly Medallion – perfect for line stitches and satin stitch dots. This design would be great on a square pillow or on the outside pocket of a tote bag.
A Turkey – Great for Thanksgiving and Autumn embroidery, as well as for various kitchen items.
Stylized Tudor Pomegranate – This design would be fantastic for goldwork and silk shading.
Quaker Motif: Bird in Tree – This design is styled after a Mary Wigham cross stitch motif and adapted for hand embroidery. It would make an excellent Christmas ornament or a nice element on your own surface embroidery sampler.
Quaker Motif: Circle, Petals, & Quilt-Square – This is another design adapted from a Quaker cross stitch motif and made into a hand embroidery pattern. This would work well on quilt squares, as it has a kind of quilt-square-look.
Farmyard Scene & Fable Illustration – a neat cutwork pattern that illustrates a fable, this can be used as a regular surface embroidery design as well.
Springy Flower Corner Design – this makes a really nice corner for a brightly embroidered towel, tablecloth, pillowcase, etc. You can see my embroidered version here.
Needlelace Pattern: Easter Egg – This is an egg-shaped pattern for needlelace, perfect for a lace Easter egg or an oval inset.
Celtic Cross – Perfect for St. Patri
ck's Day or any time of the year!
Stylized Pomegranate – used for goldwork and silk shading – you can watch this series progress by visiting my goldwork links.
Heart o' Flowers – a fun design for colorful embroidery! It's a heart, filled with flowers.
The Crewel Rooster – this is my crewel embroidery project worked in January, 2010. You can see the embroidered rooster here.
Easter Egg with Flowers – a fun egg shaped design packed with flowers – perfect for Spring!
There are more to come – I try to post free patterns fairly regularly! If you want to be informed of new content on Needle 'n Thread, sign up via RSS feed or subscribe to my daily newsletter (the subscriptions in the top of the right hand column!) With the daily newsletter, you get each day's blog post delivered straight to your inbox, so you never miss a post, and you can save them or print them for future use!
Hope you enjoy the patterns!