If you're launching into any embroidery projects this weekend, you might consider incorporating the chain stitch – or some variation thereof – into your current project.
Why? Lots of reasons! The basic chain stitch is easy, it's versatile, it's attractive, it works up quickly – and it has oh-so-many variations to it that you could never get bored with it!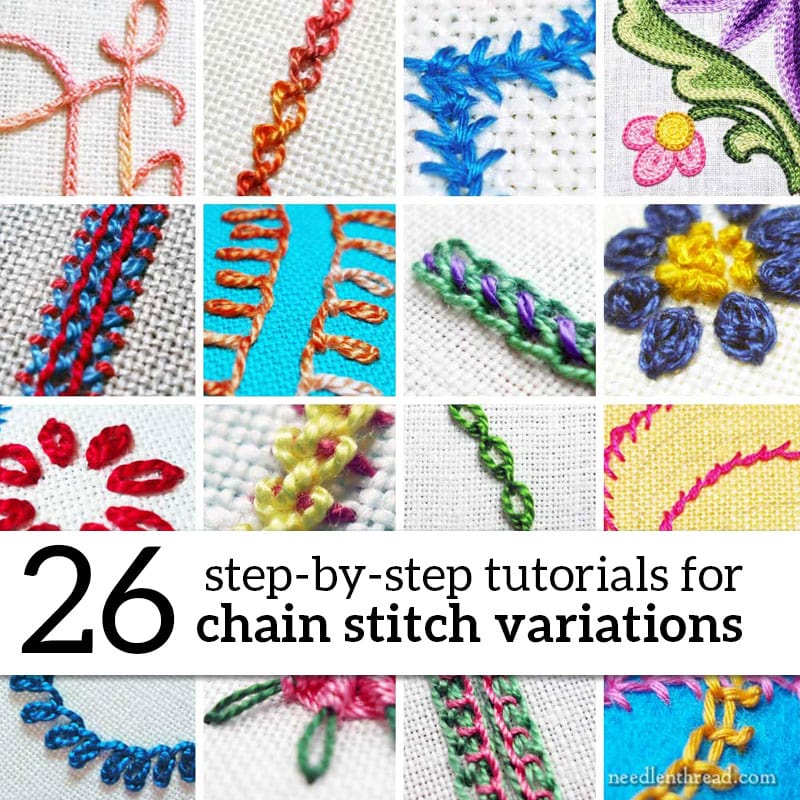 The amazing thing about this list of 26 chain stitch variations is this: they just scratch the surface. There are heaps more ways to incorporate chain stitch into your embroidery projects, but this list is a good place to start.
26 Tutorials for Chain Stitch, Variations of Chain Stitch, and Chain Stitch Composites
And there's your list! 26 ways you can use chain stitch – and actually a few more, with some additional links in the descriptions.
Finally, don't forget chain stitch as a filling, especially in tambour embroidery! Great way to fill a space, by hand, relatively quickly!
Like I said, it's not an exhaustive list, but it's a beginning.
What's your favorite way to use chain stitch? Any inspiring ideas you want to share? Any variations or composites that are chain-stitch based that you'd like to add to the list? Feel free to add to the conversation below!
Like What You See?
If you like what you see on Needle 'n Thread, if you want to help keep the website thriving and free of annoying network advertising, why not become a patron on Patreon? Check out my Patreon page here, where I'll occasionally add special needlework bonuses for patrons.
If you shop on Amazon, you can support Needle 'n Thread without any extra expense to you by visiting my Amazon Recommendations page here, where you'll find books and sundries for the needleworker available on Amazon.